The Greater Boston area has a lot of fine music rooms and a lot of fine eateries. Few of them, however, offer both.
Thank goodness for Johnny D's in Somerville's ever-hip and comfy Davis Square!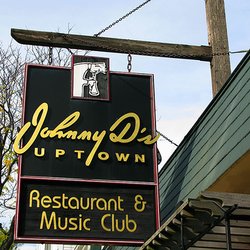 While other places in town offer Jazz, Blues, Rock, Funk, Swing, Rockabilly, Reggae, OR World music, nobody mixes it up and matches your mood so consistently. For the musically adventurous or just plain open minded, it is always a safe bet and a great place to hang out, dance and/or (emphasis on the "and") dine.
Speaking of dining, Johnny D's is a great place to visit even before the bands set up, or during the always amazing (and occasionally career-launching) Sunday Jazz Brunch and Sunday night Blues Jam or even their non-musical events, like the Monday night comedy and trivia sets. Slide a menu across the album cover-covered table and you will find an equally diverse mix of delicious dishes that fit every taste from vegan to carnivore and from pre-show meal to post-show snack. From BBQ pork sliders and farm-raised catfish fingers to a hearty chili that comes with or without meat but always with just enough fire and a vegetarian French onion soup that will not have you asking "Where's the beef?" Johnny D's has something no matter what diet you are on and even more if your "diet" starts tomorrow. On show nights, they offer a slightly limited menu that is often themed to the musical guest (e.g., the famed Sleepy la Beef mixed grill for the legend's 80th birthday in June) so the ace kitchen staff can keep the quality and speed at their regular standards, but regulars and others in the know are always welcome to make special requests. Even on the smaller menu, however, there are plenty of options, including vegan hummus with chips and veggies, a knock-you-out nachos platter available with a beef or meatless chili that is a meal in itself, a flavor-bursting strawberry salad with candied pecans and goat cheese, authentic New Orleans jambalaya, freshly-noodled portabella mushroom Stroganoff that is available with grass-fed steak tips, fried catfish, great burgers, and a Cajun-seasoned salmon that is as healthy and delicious as it looks (which is a lot!). Show or no show, be sure to save room for some freshly-baked desserts, such as the cheesecake or the chocolate cake pudding, a velvety sponge of flavonoid flavor.
If you just want to hang at the rectangular bar and take in a game on the corner tvs (both of which unobtrusively promote future shows when the music is on), hang out with old friends or make some new ones, or just catch one more before catching the T, Johnny D's can fill you with either food and/or their wide selection of draft and bottled/canned beers and specialty cocktails, including the Boston Cream Pie (with Absolut Vanilla, Crème de Cacao, Bailey's and hot chocolate), the thick and rich Original Cin (with Fireball whiskey, Absolut Vanilla, a splash of apple and hot chocolate) and the clear, mellow, and YUMMY Mark & Stormy (Maker's Mark with ginger beer). They also have a respectable wine list, and a creative margarita menu, and the prices are better than almost anywhere in the area!
As for the music, the neon- and holiday light-illuminated main room is intimate but well-balanced with a top-notch sound system and top-of-the-line engineers who make sure that the dancers in front are not blasted off the floor and the diners around the perimeter are not straining to hear. Speaking of the perimeter, in addition to more album covers from local legends, the walls of the place are literally crowded with photos and autographs of the many greats who have played Johnny D's (many of whom make it their main stop in the region!). And as there is no "backstage" (the dressing room is across the room in the basement), Johnny D's is also a great place to literally run elbows with your favorite stars!
So whether you are an old fan of a band that doesn't get around much anymore, eager to catch the next big thing before they get there, or just up for going somewhere that is sure to please your ear, tummy, and wallet, drop by the place that made Davis Square famous the first time. As the t-shirts say, "It's hip. It's home. It's Johnny D's."
Johnny D's Uptown
17 Holland St, Somerville, MA 02144
www.johnnyds.com