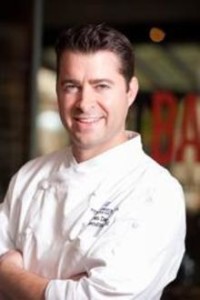 Massachusetts native Brian Dandro has been part of the team at the Royal Sonesta Boston since he came on as Executive Sous Chef in 2008. Since 2011, he has overseen all food and beverage operations, including the new but already wowing ArtBar. Embracing locally-sourced ingredient whenever possible, Dandro makes art on each plate with his creative recipes and arrangements.
Though he was accepted at the prestigious Johnson and Wales University, Dandro chose instead to take "culinary boot camp" at the famed family-owned Castle Restaurant in his hometown of Leicester. It was here that her not only learned how to cook but how to work hard to make each customer and colleague happy.
After five years at the Seaport Hotel/World Trade Center, Dandro crossed the river to become Restaurant Sous Chef at the Hotel @ M.I.T. in Cambridge, which is now Le Meridian. While his local affiliation took a vacation when he opened the Hilton Fort Lauderdale Beach Resort, he soon came back to work for Chef Daniel Bruce as the Sous Chef of Meritage, from which he was "poached" to help redesign operations at the Sonesta. In a matter of months, he made ArtBar one of the most sought out patios and eateries in the region (in part by introducing such creative programs as RatPack Mondays, Beer & Burger Wednesdays and Lobster Fest Fridays) and continues to paint with a prodigious palette for each and every palate.
Matt's Meals: How did you get into cooking?
Brian Dandro: I started washing dishes at 13 and was drawn to cooking right away.  Once I started I never thought of stopping.
MM: Where was your first professional kitchen experience?
BD: My first few experiences I must say I didn't act very professional, so I'll say it was my apprenticeship at the Castle Restaurant in Leicester MA where I really got serious in the kitchen.
MM: What is your favorite dish to prepare?
BD: It changes with the season but I love cooking scallops because it's easy to throw an extra one in the pan for me to "test" the quality.
MM: What is the best part of your job?
BD: Building and developing my team.
MM: Who is your favorite chef in Boston?
BD: Everyone is so incredibly talented both in Cambridge and in Boston.  I will say that  I've never left Oleana disappointed,  Ana Sortun is amazing at what she prepares; the thought and the ingredients she puts into each dish is just extraordinary.
MM: What do you usually make for yourself at home?
BD: I don't have much time to cook at home but in the summertime I'm grilling any chance I get and when it gets cold I'm making soups.
MM: If you could dine with any three people, who would they be?
BD: I love going out with my mother and introducing her to new things, she lived in such a small culinary bubble her whole life. My son because his faces when he tries new foods kill me. After that, it's anybody that likes to share as I always like to try as many things as I can on a menu.
www.artbarcambridge.com