I was not sure what to expect as I pulled up in front of Hancock Tavern in Quincy (www.hancock-tavern.com) on a rainy Wednesday night around 8:30. Even through the rain, I could see the many flat-screen TVs blaring games from all major leagues. So maybe it was to be another night at a sports bar.
Oh no, Dear Reader- This was MUCH more!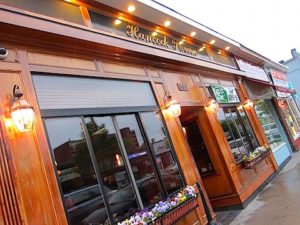 First of all, the beer and drink lists were impressive, but not nearly as much as the food. With the help of Nick behind the bar and Katie working the floor, I was kept filled up on food and drink throughout the night. The hand-packed burger mounded with fresh toppings was great on its own, let alone the hand-cut, vinegar-absorbing steak fries. And even though they were apparently out of my first-choice beer, I was directed to a new love (Ah- Stella Cidre!).
When the half-hour chime rang, the games went down and DJ Larry Falk picked up the mic and launched into the thing that, apparently, many others had come for as well- Music Bingo. In this fan-friendly, free-form game, Larry plays extended snippets of [popular songs from various eras and genres (e.g., 80's, One-hit wonders, TV themes, etc.) and, after singing along for a while, guests mark on their customized BINGO cards the name or artists of the song until someone gets the required set needed to win a prize. While I went home with a Stella glass (Ah- Stella!), other players won cash and other prizes. As a long-time music critic and life-long fan with what I like to think of an encyclopedic knowledge of music (i.e., before Auto-tune destroyed it all), it was enough fun to tucker into a juicy burger, find a new favorite beverage (Ah- Stella!) and groove to some chestnuts from days gone by.
So if you are ever in Quincy on a Wednesday night – or even in reasonable proximity – drop by Hancock Tavern for some food, folks, and musical fun!