As Boston Harbor is one of the greatest sustainers of the world's fish supply, It mat come as no surprise that the new chef on the famed Odyssey cruise and dinner boat (www.entertainmentcruises.com/boston) is so dedicated to sustainable food.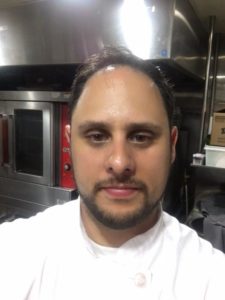 Before serving at Boston's famed Liberty Hotel, Parise helped raise the food service bar at such tony locales as Aspen, CO, AND Delray Beach and Boca Raton, FL. The fact that he worked at a yacht club in Boca may also make his move to the Odyssey more sensible. Whatever the reasons, however, the ship is more shipshape thanks to his joining the crew. So whether you want a romantic cruise, a night out with the family, or just a great meal with an amazing view, drop anchor on the Odyssey and see what Chef Parise has caught that day.
MM: How did you get into cooking?
AP: Cooking isn't something I got into, I always cooked since I was little. My family was very centered around cooking. When I started college, I couldn't choose a major but I knew that I loved everything. I ended up as an English major until my final semester where I chose to cook only because I was already doing that as a job but it was exciting and offered me so many things to learn and teach.
MM: Where was your first professional kitchen experience?
AP: It was at the Charlotte Country Club in Charlotte, NC. I had no experience and they were the first group of Chefs that took the time to invest in me.
MM: What is your favorite dish to prepare?
AP: I don't particularly have one dish! I love making food that I have never made before, creating and learning. If there was a dish that I am very particular about it would be making stocks and sauces. You kind of have to be that way to make them perfect.
MM: What is the best part of your job?
AP: Teaching and mentoring. Through the years I have watched many chefs just turn people away and judge others who can't or are not at the "CALIBER." I don't believe in it and never will.
MM: Who is your favorite chef in Boston?
AP: I don't have one, I have never been much of a groupie. I do things the way I feel they need to be done and I follow those who have good hearts and truly believe in food.
MM: What do you usually make for yourself at home?
AP: I like using my cast iron so anything I can sauté or baste. But I love sandwiches usually mortadella or cured meats that I find in farmer's markets.
MM: If you could dine with any three people, who would they be?
AP: Julia child, Martin Yan, John Besh