As I was a music writer before I was a food journalist, I have a long and storied history with the Charles Hotel and its world-famous Regattabar. Many has been the night when I would enjoy an evening repast at one of the Hotel's many fine dining establishments and then head to the second floor to catch a legend close up and personal.
So you can imagine my dismay when I learned that Jody Adams' equally legendary Rialto was moving out and how worried I was that its successor would not live up to its reputation or classy deliciousness.
I need not have worried!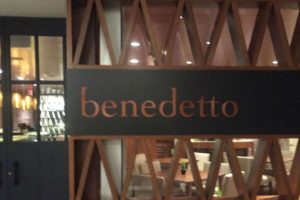 Helmed by the creative (and I mean that!) team behind Giulia, Benedetto (www.benedettocambridge.com ) continues the legacy of Rialto in a more open, somewhat more casual, yet not a drop more special space. Trading herb sprig-topped egalitarian and communal tables (including the one on which Chef Michael Pagliarini makes his pasta each day) for the cozy nooks that populated its predecessor, Benedetto's gauzily-shaded floor-to-ceiling windows let the light in and let the conversation and sightlines flow, so that everyone can enjoy at least a view of the artistically-presented dishes and the uniquely Cantabridgian vibe that pervades the space.
Upon arriving, gusts are welcomed into a latticed entryway that is flanked by a glowing stone bar and, further on, charcuterie bar, and an ivy-draped patio overlooking the Hotel courtyard. Overhead, groups of glass lighting pendants wave gently in the breeze that is caused by the efficiently-coordinated, jeans and brown apron-clad service team, any member of which is well versed in the menu and happy to offer advice (or just to attentively refold your napkin) so that each course is as pleasant and satisfying as possible.
Speaking of the menu, in addition to Chef Michael's pasta (which comes in such diverse servings as a tagliatelle with a Bolognese made with beef short rib, pancetta, and chicken livers, a spring lamb tortelloni with fava beans and lemon zest, a pappardelle with smoked rabbit sugo, and a buckwheat spaghetti with onion crema and wild fennel), Benedetto offers crispy polenta with chives and just enough caviar to be a treat without being ostentatious, as well as a variety of crostini, a satisfying mix of warm marinated olives, and a main course ("secondi") portion of Provencal white asparagus with duck egg and seasonal vegetables. For the pescatarians, there is everything from tuna crudo and black bass to skate and grilled octopus. For the carnivores, veal and pork sausage and grilled bone-in ribeye fit the bill. No matter what you order, however, be sure to save room for a truly sweet set of "dolci" that includes caramel milk chocolate mousse, vanilla panna cotta, and house-made chocolates and biscotti that make for a perfect finale to any repast (or a great appetizer for the sweet sounds of jazz next door).
To accompany any and all exceptionally edible offerings, Benedetto also offers a regionally-organized wine book and a raft of New England-based beers (with one authentic Italian option), as well as mini-creative menus and cocktails featuring Rye, Vermouth, Sherry, Amaro, and other Italian and international liqueurs. To help balance the booze or simply stem the salivating that usually occurs upon taking the first whiff from the kitchen, Benedetto also begins every evening with fresh-off-the-slab Italian bread.
Apparently, the last name of a jazz legend (bonus points if you get the reference) is now the only name you need for fine Italian dining with flair!