While there is nothing like scarfing down a pretzel and souvenir cup soda at Gillette Stadium or tailgating with friends outside, many savvy fans know that the best place to eat before the game (or even if there is no game) is Davio's (www.daviois.com).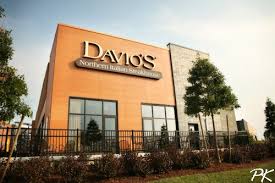 While the flagship in Boston's Back Bay is a sure destination, the Northern Italian steakhouse (with SO much more!) continues to bring its customer-first dining excellence to fans further afield. From Chestnut Hill and Lynnfield to Atlanta, New York, and Philly, Steve DiFillippo's family (and family-friendly) empire continues to bring amazing food and top-notch service. Any are worth the trip, but an evening at Davio's overlooking "The Razor" while peeking into the fiery kitchen where Davio's quarterbacks run their plays may be extra special (especially after another big win!).
From the homemade breads to the pre-orderable cakes, a meal at Davio's combines the freshest ingredients and flavors with a passion for service and excellence that is unrivaled anywhere. Though they may be famous for their creative spring rolls (which are available at many markets or online), the menu is bursting with choices that make any meal satisfying and any reason a good one to return. While there is something for every taste – from the featured flame-broiled meats to fresh fish and homemade pastas and Italian delights – the menu is thoughtfully arranged so that everyone can find just what they want and, with the help of a staff that knows how to do its job, can tailor it to their particular needs and desires. From Kobe beef meatballs and fried calamari with hot peppers to the famed spring rolls in such sandwich-inspired flavors as cheese steak and Reuben to a Panini and pizza menu that makes Davio's a great place to stop for a luxuriant lunch, the appetizer and smaller plate options make for great starters or terrific quick meals. At dinnertime, salads featuring fresh baby arugula, farro and shaved cauliflower, and chopped romaine with chickpeas and eggs join hand-made pastas that range from potato gnocchi to braised veal angliotti and fusilli with shrimp and hot peppers. Speaking of seafood, the pesce portions range from Atlantic salmon to yellowfin tuna. While any of these are prime choices, many come to Davio;'s for their prime steaks, which include a 8oz flat iron, two cuts of filet mignon and a 24 oz. natural aged bone-in rib eye that will fit the bill for most romantic dinners for two (or very hungry football fans). Alongside any of these are such treats as sautéed green beans, sweet corn, Brussels with bacon and apples, a potato so nice they bake it twice, and David Bieber's signature onion rings.
In addition to special menus for breakfast, brunch, and the bar, there are also lunch and dinner menus for gluten-free fans, and even the junior executives get top treatment with a creative coloring menu that offers pizza, homemade pastas with tomato sauce or butter, burgers, and even flatiron steaks (all of which can be followed with ice cream or even a hot fudge or brownie sundae).
In addition to the comfortably expansive main dining area with its Superdome-worthy ceiling supported by giant pillars and dotted with comfortable tables and chairs of various sizes and perspectives (including the oblong bar at which every seat is a winner and the chef's bar where diners get a front-row seat on the active kitchen), Davio's offers a comfy front seating area where you can await your table while enjoying a cocktail and good company and more than a few secluded spaces, including rentable rooms that are perfect for a tony tailgating or other private or business event.
Speaking of cocktails and bar seats, the craft list is impressive and enhances many of the menu items with such favorites as the dirty pepper and pomegranate martini, the Southie (with Jameson's Irish Whiskey) and Davio's signature sangria. The wine list is a well-organized tome of oeneophilic options that features Italians but also offers other international stars as well. There is also an entire collection of rare whiskeys and local beer showcases that change every so often to entice fans to try find new favorites every time.
So whether or not you have tickets to the party next door, any size party is perfect for a table at Davio's and your entire team will be glad you came.