As more and more companies pour into the 128 corridor in Waltham, the hospitality industry has being working overtime to handle the traffic.  From new eateries like Whole House Group's family-friendly Flank to suburban outposts of Bonefish Grill, Posto and Ruth's Chris, the area is getting to be known for much more than a highway-side Market Basket. While the hotel scene also strives to keep pace, one rentable residence offers the best of both worlds, having tucked into its lower corner a hotel restaurant that is well worth a visit even if you do not intend to stay.
With its tap-laden bar and beer-inspired décor, Copper House Tavern (http://copperhousetavern.com) in the Best Western may appear at first like an after work bar. And it is that- with over 40 craft beers that are conveniently organized by type (e.g., IPA, Pilsner, Belgian-style, cider, etc.) and available in flights so guests can find new favorites all the time, as well as glasses and bottles of wine from near and far, entire menus of Bourbon, Whiskey, Scotch Tequila, Port, and Cognac, and craft cocktails that range from a signature Tito's vodka-based Kicking Mule to a tantalizingly tasty cinnamon-spiced cranberry whiskey sour to seasonal selections and a handcrafted Sangria.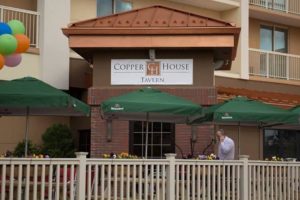 Despite a food menu that is at least as diverse, CH Tavern presents each offering with care and flair. Among the entrees are a spicy and satisfying carne asada, a fresh and flavorful Asian rice bowl with fried egg, a creamy Cajun pasta with blackened chicken, and two types of tacos, each of which comes with fresh salsa, guac, and all the traditional fixin's. Even the app area is a veritable UN of un-ique flavors, including the Mediterranean-style hummus platter, the Caprese bruschetta, and the tomatillo, guac and chips and ranchero nachos with chili, chiles, and cheese. When you add to these authentic international offerings the CH steak tips and an entire board of burgers (all of which can be served with veggie or turkey patties), it is clear the Tavern has the Paleo crowd handled. But when you also look at the salad menu that ranges from traditional mixed greens and a classic Caesar to a warm roasted vegetable and quinoa mix that is a meal in itself or a Southwest blackened chicken Cobb (all of which are offered with hand crafted dressings like cider Dijon and Balsamic vinaigrette), those who do not mince meats will also find plenty to enjoy. For those who want other options, the Tavern obliges heartily with such sandwich selections as a French onion grilled cheese, BBQ pulled pork, roasted turkey BLT, and such deli classics as the grilled Reuben, turkey Rachel, and classic corned beef. And did we mention stone-fired pizzas? Yep- CH has those too! And for the kids, their activity mat/menu satisfies with a BIG "kid-sized" pizza, mac and cheese, chicken fingers and all yer young'uns' faves, each of which is served with a beverage and dessert included!
With all this to offer (and all of it so good), it is clear why so many members of the expanding area workforce gather at the Tavern after work.  However, when you add in a weekend brunch that includes its own cocktail list (including multiple Bloody Mary mixes and the CH mimosa), as well as caramel banana nut pancakes, and the Tavern's signature Yankee platter (with eggs, pancakes, meat, potatoes, and toast), steak tips and eggs, eggs Benedict and corned beef hash, the Tavern becomes more and more appealing to those who do not work in the area who may simply return to the area for great food even on their days off!
So whether you get called to that big meeting at the new HQ of your favorite client or just want to hang with the team and catch the game on a bevy of flat screens while sampling great beers and impressive food, or if you simply want a vantage point of the bustling 128 area that does not end with your cubicle, roll on over to the Best Western lot and pull up a comfy leather banquette, sturdy chair, or friendly bar stool at Copper House Tavern (or rent them for your own party or event!) and see what all the businessperson buzz is about.