This piece also appeared in The Homesteader
While it may take longer to say "The State of Rhode Island and Providence Plantations" (which is the state's official name) than it is to drive through it. Rhode Island punches well above its weight class in many divisions. In addition to being the world HQ for such international juggernauts as CVS, GTECH, Hasbro (see sidebar), Narragansett Brewing Co. (and over a dozen other breweries), and Textron, it is also the home of Brown University, RI School of Design (aka, RISD) and the original campus of Johnson & Wales University, all of which add to the breadth and depth of intellectual, creative, and culinary clout of the first state to declare independence and still one of the most independent states in the union.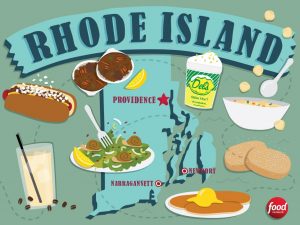 From a stroll through and/or carousel ride at Roger Williams Park Zoo (www.rwpzoo.org), a cruise to and through Newport to catch the Folk or Jazz Festival (www.newportfestivals.org) and the famed mansions and Green Animals Topiary Garden (www.newportmansions.org) to an easy-going afternoon at a Pawtucket Red Sox game, great family day trips are easy to come by. But by car or bus or plane, most roads lead through Providence, making it a capital spot to stop.
In addition to the ease of access via TF Green Airport, Amtrak, the MBTA or Interstates 95 and 195, the ever-more-aptly nicknamed Renaissance City continues to grow and impress with its evolving and entertaining list of entertainment options.
If you do not fly in, a visit to (or stay at) the historic (and allegedly haunted) Biltmore Hotel (www.providencebiltmore.com) is an affordable way to afford a great view from the top floor and from most every room. While the drivers in Providence are so courteous that the cars stop at crosswalks and the buses verbally notify pedestrians of an upcoming turn, the bus brigade behind Experience RI Tours (www.riexperience,com) can add interesting information to the journey through the streets and over the many numbered bridges. As the Ocean State is also well named in that regard, water-based tours also abound, including the fun and freewheeling tours provided by the Providence River Boat Co (www.providenceriverboat.com) and the more romantic and musical excursions offered by the multi-lingual guides of La Gondola (www.gondolari.com) who take their BYO trips in authentic Venetian gondolas accompanied by authentic Italian story and song.
Speaking of Italian, one of the most famous places to eat in Providence is Federal Hill (http://federalhillprov.com), where almost every eatery offers a five-star family feast. However, the DownCity area has been flexing its own mealtime muscle of late and offers new and diverse places to eat, drunk, and be merry than most other cities of much larger size. As there may be too many, in fact, a great way to get a taste is with the help of RI Red Food Tours (www.rhodeislandredfoodtours.com). From five-time AAA four-diamond award-winner  Gracie's (www.graciesprov.com) and its sister bakery Ellie's (wwwelliesbakery.com), which is run by a 13th-generation Rhody to newer flavors like Chinese Bao (www.tomsbaobao.com), and hand pies cooked by former members of the Momofuku team (www.northbakery.com) to a former McDonalds which now serves foods (including amazing wings in their house-made hot sauce) that are created from RI recipes and produce (http://rogueislandgroup.com), the tours offer a little bit of a lot of things, just like the state itself! Before or (if you possibly have room) after the tour, the city is literally booming with excellent eateries. Right next to City Hall is Haven Bros. Diner (http://havenbrothersmobile.com), a celebrity sighted movable feast that offers great grub and super shakes long into the night. On the far side of the Brown campus (and also in nearby Greenwich) is Red Stripe (www.redstriperestaurants.com), a pair of fun and deliciously filling eateries helmed by Boston import Rachel Klein and owned by the team behind Ocean State Job Lots. Pawtucket's Modern Diner (https://moderndinerri.com) combines an historic Streamliner shape (the diner is the first such spot on the National Register of Historic Places) with food that continues to win the latest awards year after year! Another worth-the-trip place is Al Forno (www.alforno.com), which claims to be the birthplace of wood-fired pizza. Other gluten-ous glories in the city include the custom-baked pretzels and craft beers at The Malted Barley (https://themaltedbarleyri.com) to the hole-y creative donuts at Knead Donuts (www.kneaddoughnuts.com), which can also be enjoyed with some Bolt Coffee (www.boltcoffeecompany.com) at the RISD Museum (www.risdmuseum.org), an impressive collection that spans from a 19th-century period home that was built for the collection through Great Masters like Monet, Picasso, Lichtenstein, and Rothko to the latest from the School's students, many of whom graduate into the city's famed artist collective/school known as AS220 (https://as220.org).
While retracing the steps of famed grads like JFK, Jr., Joe Paterno, John D. Rockefeller, Jr. Lisa Loeb, Julie Bowen, Peter Robinson, and Emma Watson at Brown (www.brown.edu), be sure to meander through the various quads before going to the John Hay Library to rub the nose on the bust of President Lincoln's personal secretary (and famous Brown alumnus) and then on to the John Brown House, which is kept up by the RI Historical Society (www.rihs.org) who also offers tours of other points of interest throughout the state. The Brown house is also a major stop on Benefit Street, which is home to more sites on the National Register of Historic Places in a single mile than anywhere else in the nation. Along the way, you may also cross Providence's Independence Trail (http://independencetrails.com), a privately-funded (and painted) cell-phone-enhanced guide to more of the city's historic sites. Nearby is also the birthplace of H.P. Lovecraft (www.hplovecraft.com), the horror fiction king who is still celebrated each summer with Necromicon (www.necronomicon-providence.com) and the site of the first Baptist church in the US (www.firstbaptistchurchinamerica.org) which was opened in 1638 by Rhode Island's founding father Roger Williams. Talk about contrasts!
In addition to the all-the-time offerings, Providence and the surrounding environs also offer special events throughout the summer. Among the most popular are the canal-luminating WaterFIre (www.waterfire.org) and the monthly (March-November) art-splosion known as Gallery Night (www.www.gallerynight.org). there are plenty of things to see and plenty of people who are happy to help point them out, the oldest state is also very up to date and has its own app (available at www.rhodetour.org) to help tourists and locals alike find just what they want and learn the stories behind it. So whether you want a Rhode (er- road) tour, a romantic cruise through the canals, or a big view of a big little city.
So whether you like stories of faith or lack thereof, porter or IPA, pizza or pasta (or both), Providence and its surrounding cities and towns have a great deal to offer, all in a small area that is easy to get to, get around, and enjoy!