When a place makes its mark in a neighborhood, it can be hard to say goodbye.
Fortunately, for those who loved Sonny's in Dorchester's Adams Village, the name and menu have changed, but the welcoming food and familial vibe have remained in the new incarnation known as The Industry (http://theindustryonadams.com).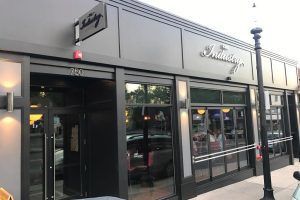 With a kitchen helmed by South Shore superchef Stephen Coe (a Culinary Fight Club champion who recently competed on Chopp'd- the finals of which can be seen at his new home on Tuesday, August 15 at 9 PM) and a logo and menu that were designed by family members of owners David Arrowsmith and Martin Davis, The Industry's name is intended more to reflect the community's strong work ethic and to support the many people who demonstrate it than it is to sound mechanical. In fact, the only mechanized elements in the place are the glass-chilling system, the 180-bottle glass-doored wine cooler, a Nitrogen-fueled craft beer system (which will pump out dozens of favorites, including a seasonally-rotating Industry standard made by Mayflower Brewing Co.) and the flatscreens that overhand the long wooden bar. Otherwise, Chef Coe and his neighborhood crew want everyone to feel like family and to eat at least as well as they would at home.
While every dish is prepared with TLC, Chef Coe's standouts include a raft of rectangular flatbreads that range in flavors from fresh fig and Prosciutto to Philly cheese steak, a pear & Masrscarpone sacchetti with Moustarda fruit, a tuna nacho with Siracha sour cream and pickled ginger on hand-made wontons, a warm mushroom and asparagus salad with white truffle vinaigrette, and a plate of grilled local oysters from Chef Coe's friends at Plymouth Rock Oyster Growers. Among the signature plates are the Industry Salad (with local greens and shaved baby veggies), and the dynamic dup of the Industry burger (with special sauce, Bourbon and bacon jam and more topping treats) and vegan burger (with avocado, Chipotle aioli, and chickpea fries). For those in a rush or on a budget (or both), the Lunch Trio offers a cup of soup, half of any flatbtead and an Industry salads for just $14! For those with the luxury of lingering, The Industry also offers a wide range of Prohibition-style craft cocktails, include a truly old-fashioned Old Fashioned, an Uber 'Rita, Marty's Mule, Industry Sangria, and a big rock Bourbon on the rocks.
The dinner adds such soon-to-be-faves as the Foie Gras, a classic combo of steak tartare and carpaccio, organic chicken cooked under a brick, a 24-oz Tomahawk Ribeye or a deconstructed Ribeye known as "Decon 3," and a plate of locally-sourced meats and cheeses, topped with Chef Coe's own honey.
Speaking of sweet stuff, while the apps and mains at The Industry are satisfying, saving room for dessert is always a good call, thanks to such tasty treats as a warm chocolate soufflé, fresh fruit crisps, and their amazing S'more cheesecake (not to mention a fresh fruit plate and sorbet trio that make dieting delicious too!).
For the little workers, The Industry offers a house-made hot dog as well as a 6 oz. sirloin steak frites, fried chicken, cheese flatbread, and grilled cheese on Brioche, among other fan faves. So whether you are taking a break from your own industry or meeting the fam afterwards, The Industry has all you need for a delicious family-style meal. And with plans in the works to reward the hard-working people on Dorchester (and beyond) with an Industry discount card and other special offerings, The Industry is sure to become a local hangout for working men and women, families, and anyone else who appreciates great food in a friendly setting.