While we wait the triumphant return of Boston-based Chef Rachel Klein, it is good to know that she has landed so well…and so close!
Only a 20-minute ride on the Commuter Rail (who wants to drive 95?), the dynamic duo of Red Stripe restaurants (http://redstriperestaurants.com) in Providence and East Greenwich are perfect places for a family meal (including Parents' Weekend at Brown or RISD), a special night out, or anything else you can think of.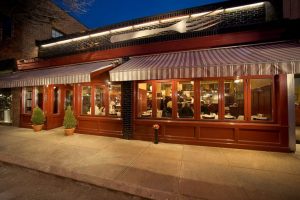 The Providence location is located just the other side of Brown from DownCity. And while the space is open and airy (though perhaps not quite as big as the parent company- Ocean State Job Lots) with wide windows open to the street (and seasonal patio seating) on both sides of the block, it always seems to be comfortably crowded with satisfied customers of all stripes.
With its black and white tile floor, white granite bars on dark wood pedestals, comfy red columns and red leather chairs, the visual palette is simple and easygoing. A light up lion's head from the dearly departed Rocky Point amusement park leads the way from the front room to a pair of rear rooms, one of which can be sectioned off for private parties. Otherwise, the only other things that might possibly distract from the artistically-designed plates are the holiday tree festooned with Red Stripe's eponymous (and apparently inspirational) beer bottles (which are available for $3 a pop, as part of the restaurant's wide-ranging beer list) the portrait of Julia Child that is hidden along a tiled rail above the open kitchen. And with Saint Julia looking over the kitchen, the results are sure to be great!
In addition to the great beer list, Red Stripe also offers an impressive but approachable wine selection and seasonably-suggested craft cocktails that range from a Hot & Dirty (St. George Green Chili Vodka with olive juice) and an Eifel Tower (Absolute Peach with Cointreau, grapefruit juice, and sparkling wine) to the Black Walnut Manhattan (with Bulleit, Nocello Norcino, Free Brothers Bitters, and Luxardo cherry), Julia's Upside Down Martini (made with Bombay and Dolin Dry) and Ginger's Blush (with ginger and pomegranate liquors, sparkling wine, and lemon juice). As you enjoy any of these, fresh-baked sourdough is delivered to the table by the Stripe's friendly and supportive servers who are happy to tell you about such sub-$10 specials as Monday's mussel madness (the subject of which is also a major theme of the main menu, with an assortment of mussel meals offered every day), Tuesday's traditional fish and chips, and Thursday's burger and beer (or wine or soda) pairings, most of which are served the Stripe's famed hand-cut frites. Other regular faves include the oven roasted tomato soup, tuna tartare, foraged mushroom arancini, Buffalo cauliflower, and the meal-for-a-week known appropriately enough as the Everything But the Kitchen Sink salad, an enormously fresh and delicious combo of green, veggies, house-made pickles, cheese, and a quartered egg (Oh- and did we mention it can be topped with an amazing slab of salmon, tuna, chicken, or hanger staek?) . Among the aforementioned mussel varities are the Red Stripe (with cherry tomato, pesto, garlic, and, of course, Lager), the Mariniere (with thyme, shallots, garlic, leeks, and white wine), and the Mouclade (with curry, garlic, shallots, wine, and coconut milk). Among the marvelous mains are steak frites (with the aforementioned house fries), a roasted half chicken, cod, or salmon platter, short rib gnocchi, paella with shellfish, chicken, and sausage, or their great burgers. Needless to say, there is something for everyone (including a more-than-0mac-0anbd-cheese kiddie menu) and sharing is not a problem.
Speaking of sharing, whenever you visit (and it should be repeated), be sure to save room for Red Stripe's imminently sharable (though you may want one for yourself) desserts, including their brown butter sponge crust cheesecake, a refreshingly different mango ginger trifle, and a giant cookie pie that is all it says it is.
If you are fortunate enough to live in Providence, your menu of food choices expands almost daily. If you are near enough to go (and Boston certainly is) it is well worth the trip and, once there, making a bee line for Red Stripe is always a good call!