As the Boston Seaport continues to be (over)developed, the range of available eateries continues to astound. And while many of these allow guests to enjoy seafood pulled right from the water while sitting by the water, none can offer the immersive experience of the recently-renovated Odyssey (www.odysseycruises.com/boston).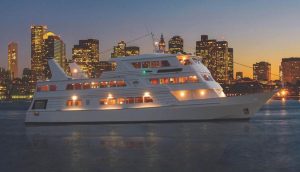 With three decks of dining and dancing delights (including an upper deck VIP suite that is perfect for meetings, weddings, or other extra-special events), the Odyssey whisks guests on an excursion that combines international fare and local flair. The new design is sleek and swanky, a symphony in gray accented with chrome and topped with steel menus. But even when it is gray outside as well, the Odyssey still offers a view that is sure to be moving!
On the inside, Chef Anthony Parise puts together the best local ingredients to make buffets and menus that range from smoked duck breast to filet mignon. Want seafood? The Odyssey has you surrounded on all sides (literally) by the freshest around and serves lobster soup, jumbo crab cakes, seafood towers, and (for the brunch cruise) enough smoked salmon to sink a Bar Mitzvah. Speaking of the brunch cruise, the buffet offers everything from build-your-own waffle bars to massive fruit salads and dessert tables.
On the liquid side, the fully-stocked bars help ease any queasiness and perhaps enhance any romance with such signature sets as the St. Germain (with Edlerflower and Prosecco), the El Diablo (Olmeca Altos Reposado Tequila with Crème de Cassis and ginger beer), and the Tropical Splash (two rums, Amaretto, and fresh juices). As the Odyssey is a favorite among tourists as well as locals, most of these are available in a souvenir glass. But no matter what you eat or drink, you are sure to remember your voyage on the Odyssey!