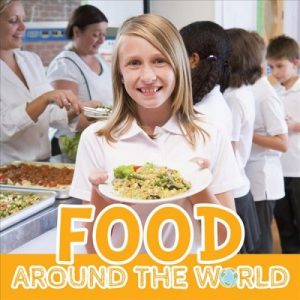 In her new book, Food Around the World (which is part of BookLIfe's Around the World series for early readers and their families), British author Joanna Brundle takes readers on a delicious voyage to see how people in many other countries and cultures eat.
After explaining why we eat by likening an energy source like food to "petrol," she presents a menu of traditional favorites that range from her native fish and chips to Asian noodles and sushi, Italian gelato, Russian borscht, and Indian curry before introducing the "Big Three" crops that make up most of the international diet- corn ("maize"), rice, and wheat. After setting the table, Brundle takes time to look at special times on the cultural calendar and the foods that are often related to them, such as Christmas pudding and post-Ramadan fast foods. She then shows how various peoples procure their foods, offering beautiful images of African fruit markets and Sri Lankan fishermen balancing on poles in the water while they attempt to spear fish with long poles.
Before saying "bon appetit," Brundle takes a moment to note how many people do not have enough food and to encourage readers to participate at food banks and to do what they can to share their bounty. Such generosity is a message that is truly universal and nutritious.
(www.ipgbook.com)