Every day, thousands of people pass under the two lone buildings that tunnel the Mass Turnpike. One is a supermarket; the other a hotel. And while the former may have more options, the latter is surely a more pleasant place to dine, especially now that Chef Justin Rexroad has come to town!
A finalist in the recent Culinary Fight Club event that took place at another deservedly popular hotel restaurant (i.e., Bokx 109 a the Hotel Indigo), Chef Rexroad is now commuting from Portsmouth, NH (home of the locally legendary Clipper Tavern) to Newton to bring a new flavor and vibe to Social Restaurant and Bar (www.socialrestaurantandbar.com), the dining establishment that is tucked into the Crown Plaza Hotel in Newton. In so doing, he has transformed the room service kitchen into a place worth driving too, even if it means enduring the backup on Exit 17!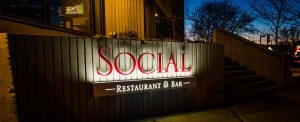 Physically, the Social space has remained comfortable consistent, with a long wooden bar lining the left-hand wall, overhung with five flat screens and shelves of enticingly-illuminated libations , and an open, airy, but subdued main dining area that is separated from the bar by only a high banquette, allowing the eponymous nature of the place to endure as delicious smells and happy voices waft all around, leading back to a more secluded rear room that accesses the hotel itself. With one wall made of glass and others adorned with tastefully-spaced art prints of famous folks gathering and mirrors that let guests picture themselves in such scenes, there are plenty of things to look at without anything distracting from the beautifully-plated ensembles Chef Rexroad has brought to the area. Even the small stage on which live jazz is performed for weekend nights and weekend morning brunches is set back enough so that those who wish to dance may and those who wish to have the sweet and savory sounds complement the tuneful tastes can as well.
Speaking of those tastes, they range widely and Chef is introducing new ones as seasons and tastes change. Among the "sociable" appetizers are a flavor-laden Meze plate that features fava bean falafel, pistachio labneh, pickled turnips, and fresh za'atar spiced flatbread, smoky charred broccoli with chili, tacos made pork belly (which Chef has apparently encouraged to take the bacon craze in a productive new direction), lobster roll sliders, scallops in candied lemon sauce, oyster po'boys on endive, fried brie with hand-made mustard and caramelized onions, and plates of Social fries that are worth the name and the trip! The soup set includes a signature clam chowder with local Little Necks and a creamy tomato bisque that is served with lobster grilled cheese bites. The burger board ranges from the Bishop (with lettuce, tomato, and bacon aioli) and the Mexicali (with Pepperjack, charred pineapple, smashed avocado, and chipotle mayo) to the High Roller (which combines brisket, short ribs, pork belly, and lobster with a Creole BBQ sauce and Old Bay fries). The entrees entice with such standards as a 14-oz. sirloin, pan-roasted chicken, and organic Scottish salmon, as well as Chef's creative contributions like a triple-peppered center-cut steak that is served on a plank you will want to let your eyes and taste buds walk again and again. Another reason to return often is the dessert menu, for though it is relatively compact (featuring a bourbon sticky toffee pudding that combines all sorts of flavors and textures in one orgasmic bowl and a chocolate lava cake that brings the greatness back to this otherwise overdone dessert), the standard selections are superb and Chef is bringing new ideas (such as a Bananas Foster pudding) all the time!
As it is billed as a restaurant and bar, Social would not be living up to its name if the second part were not well established as well. But never fear, traffic-weary travellers and visiting dignitaries, for the hotel bar has plenty of options on the liquid tip as well! In addition to an international wine list that is organized by type – from light whites to hearty reds – and beers in bottles, cans or pints that hail from Boston to Belgium and beyond, Social also offers its own set of signature sips, including the buzzy Bees Knees that combines gin, lemon, and local honey, the blood orange Old Fashioned, pear brandy-based Social sidecar, and another clever variation known as the New England mule that adds fresh cranberry syrup to the standard set-up and puts it all in a very "wicked pissah" Mason jah.
As for the aforementioned brunches, in addition great live music and free parking, Social also offers a raft of hand-cracked Benedicts, fresh-baked biscuit sandwiches, omelets and skillet scrambles, and what Chef Rexroad boldly claims to be "the best pancakes in town." There are also Shakshuka, burgers and BLTs, soups and salads, and what Chef lovingly refers to as an "adult" fruit cup that combines black Mission figs, Asian pear, kumquat, banana, Bing cherries with nutmeg Mascarpone and Amaro.
So while many hotel restaurants may be no more than places to find late-night snacks when nothing else is open or late night trysts that may make lead to litigation, Social Restaurant and Bar ups the ante by bringing a known name to the area to put the Crown Plaza on par with such other favorite eat-and-stay spots at The Colonnade, the Ritz, and the Four Seasons, all without the downtown price, parking, or drive, In fact, whether you are traveling from other regions or just from other parts of Newton, Social may be enough to get you to join the line at Exit 17 and proceed no further!