Though Lanes & Games and Sacco's in Davis Square may be memories, bowling seems to be making a resurgence in the land of the candlepin. For proof, look no further than the burgeoning development Boston Landing, home of WGBH, New Balance, the Bruins, Celtics, and the biggest hockey stick this side of Paul Bunyan, which is now also the home of the latest Flatbread Company. pizzeria (www.flatbreadcompany.com), an organic eatery with many locations that also features bowing in the Brighton base.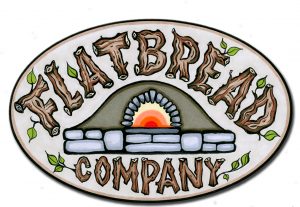 With floors, walls, and tables that use the same sorts of woods that were apparently reclaimed from the former Davis Square strike zoneand a pair of bulging earthen mounds in which the edible magic takes place, the Brighton Flatbread is comfy and cozy, despite its lane-long size. In addition to the seven lanes on the main floor, the venue also hosts a semi-private balcony space that offers its own pair upstairs. Running alongside the lanes is a long bar overhung with two flatscreens that ends in an open window through which visitors can view the resetting apparatus en route to the necessaries.
Whether you snug around the tiny lane-view tables or take up some real estate in the main dining area that is sequestered from the ovens by stacks of freshly-cut wood, the pizza is as much worth the trip as the pins! Made with organic dough, whole-milk mozzarella and parmesan, and fresh, flavorful tomatoes, the eponymous (yet often bubbling) flatbread is a perfect palette on which to add such savory selections as organic herbs and veggies, oven-roasted free-range chicken, or nitrate-free pepperoni or to try one of Flatbreads many creative combination suggestions. As the pizza choices are so healthy, you will surely not mind (and should not miss) one of Flatbread's famed desserts, such as Sarah's chocolate chip banana bread or Barbara's homemade brownie sundae (both of which come smothered in Annabelle's ice cream and warm homemade chocolate sauce) or siding your selections with a glass of wine (they got Kung Fu Girl, Y'all!), beer (everything from Far From the Tree and 'Gansett to Cambridge Brewing and Night Shift), or their handcrafted adult and milder drinks (e.g., Flatbread lemonade or the Lebowski-d White Russian known simply as "The Dude"). And while you may not roll a "turkey," you are sure to eat and drink well just the same!