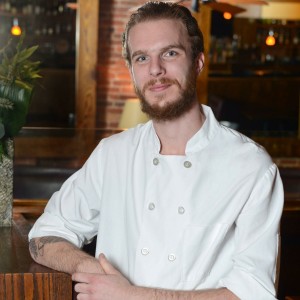 Matt Drummond
Loco Taqueria & Oyster Bar
412 West Broadway, South Boston
www.locosouthboston.com
The fact that he grew up in in the relatively small town of Williamstown, MA, may somewhat explain how Chef Matt Drummond is able to do so much in such a small space as his latest creation, Loco Taqueria & Oyster Bar on West Broadway in South Boston. No matter where he has been, however, he has always been able to bring big flavors and big personality. From his early days in a Greek-Italian pizzeria to a French-style bed and breakfast and the famed Brasserie Jo at the Colonnade Hotel and Temple Bar in Cambridge to the Dunkin' Donuts Center and a popular Italian spot in Providence, Drummond has always been eager to try and combine new flavors and new ideas. At Loco, the Johnson & Wales grad and devoted Pats fan brings together the native New England raw bar with the South of the Border taco preparations and a glistening menu of tequilas to please folks from either old or "new" Southie and to entice visitors from much further afield.
Matt's Meals: How did you get into cooking?
Matt Drummond: I got into cooking at a very early age.  Before working in restaurants, I was influenced by my mother's cooking (especially her daily bread baking, which would allow me to bring a baguette to school everyday and constantly snack on underneath my desk.)  When I was just about to turn 13, I got a great experience by working at my family friend's pizzeria as a dishwasher and, shortly after, a prep cook.  The hustle inspired me to continue on with the passion that I dearly love to this day.
MM: Where was your first professional kitchen experience?
MD: My first kitchen experience was at the pizzeria in my hometown of Williamstown, MA.  I really started to cook at a classical French restaurant shortly after the pizzeria at the now closed Le Jardin in Williamstown.
MM: What is your favorite dish to prepare?
MD: People ask me this question all of the time, and I really have the same answer each time.  "I don't have one."  But if I had to pick a type of food, it would definitely be seafood.  We New Englanders should be true to our roots!
MM: What is the best part of your job?
MD: For me, this is a three-part answer.  Ultimately, it is to take my passion and love for cuisine and hospitality, and parlay that into providing experiences for either my guests, friends, or family.  Also, spreading my knowledge and desire to consistently challenge myself as a culinarian to my staff and peers.   And finally, I'd be lost without the daily hustle, grind, and general devotion that you need to give to your job daily.
MM: Who is your favorite chef in Boston?
MD: To name just one would not be fair, because greater Boston has so many of them!  I'm proud to be part of such a great food-driven city.
MM: What do you usually make for yourself at home?
MD: It's a good thing that I don't need to watch what I eat, because when I am actually home I eat like crap.  I'm usually not home much to even cook for myself, and when I have time off, I'm out dining throughout the city.
MM: If you could dine with any three people, who would they be?
MD: My deceased Grandfather, Marco Pierre White, and Anthony Bourdain.
That would be one hell of a conversation!