As people become more and more conscious of what they put into their bodies, more and more of them are pulling out of the drive-thru and into the farm.
For those for whom 5 AM hog slopping is not a reality, there is Boston Organics (www.bostonorganics.com), a local venture that has very local roots.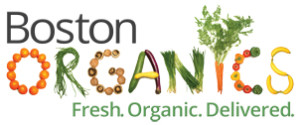 According to Marketing Associate Eric Siegel, Boston Organics started in 2002 when Founder Jeff Barry began personally delivering fresh fruit and vegetables to his family and friends.
"After college I served in the Peace Corps on the Comoros Islands off the east coast of Africa," Barry explains. "While I was there, I helped the local fishermen, farmers and other artisanal producers build a central marketplace. Upon completing my service, I knew I wanted to join my interests in business and sustainability." After his return, , Barry studied environmental economics and business at Tufts and then moved to San Francisco to study start-ups during the dot-com bubble. A West Coast venture called Planet Organics inspired his model for Boston Organics.
"Having been born and raised in New England," Barry says, "I was frustrated by how difficult it was to find convenient, affordable, and healthy organic food after I returned to Boston to start a family."
As the USDA was still finding its footing when it came to organic foods at the time that Barry birthed his idea back in Boston, the marketplace was not as clear-cut or simplified as it is today. "People would drive several towns over to find specific organic products," Barry recalls, noting that many people still do go from store to store or farm to farm to find the items they want.
That is what makes Boston Organics so great! Even though many other stores now offer more organic choices, the selection can be spotty and inconsistent at best. Boston Organics ensures customers that they will get the freshest seasonal items available from a company that is still family-owned and operated.
"Our loyal customers choose us because of our dedication to quality, sustainability, affordability and because we opt for organic and local whenever possible. We call that the Gold Standard," says Barry. "Members of the Boston Organics Community know that when they sign up for our service they're supporting a vibrant network of organic farms and helping to build a more sustainable food system."
Unlike Community-Supported Agriculture systems (CSAs), in which customers actually participate in the growth and processing of the foods, Boston Organics is far more convenient, in that all customers have to do is specify the amount of which particular fruits and vegetables they desire (and how often) and then sit back and wait for the big green crate to arrive, filled with a bounty of fruit, vegetables, milk, cheese, snacks, and whatever else they want.
"We are also much more rooted in the organic food movement and sustainable food systems than larger grocery delivery companies," Barry adds.
Having started with a delivery to a handful of fortunate friends and family members, Barry's company now services hundreds of homes and offices all over Greater Boston- with more delivery trucks and bikes and new zip codes being added all the time! They also continue to expand their menu of offerings and now deliver fresh eggs, bread, tofu, pasta, yogurt and coffee from local businesses like Taza Chocolate, Iggy's, Vermont Soy, Jubali Juice, Butterworks Farm and one of the newest (and most popular) additions – Lesser Evil. While the choices may be bordering on happily overwhelming, Boston Organics offers seasonally influenced boxes in different veggie-to-fruit ratios that can be tweaked to order instead of built from scratch (save that for the cooking!).
"Our most popular box options are the Standard 2/3 Vegetable Box and the Half-Fruit-Half-Veggie Box because they provide a solid mix of hearty vegetables to make a few good dinners with throughout the week, but also plenty of fruit to toss into lunches or eat on the go," Barry explains. "Our All-Local Dogma Box is another popular option for locavores looking for something more like a traditional CSA."
From my own experience, I've found that no matter what I order, I always receive No matter what they order, Siegel assures that all Boston Organics customers will receive not only timely delivery and great support, as well as regular news and recipes that can inspire me to make the most of my bounty. Barry happily adds that all Boston Organics customers also enjoy "satisfaction and joy from knowing that they are eating consciously and sustainably while supporting a local, independent business as well as a network of organic farmers."