In the Old Country, your Bubbe and Zayde made shoes with leather.
In America (and elsewhere), we eat it!
Kayco (www.kayco.com) – the nation's leading provider of Kosher foods – recently introduced a new dairy-free dark chocolate "leather."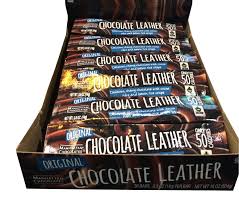 Okay. Okay…. Think Fruit Roll-Ups without the gooey slimy nasty parts- It's just dark chocolate, brown rice, cane sugar, cocoa nibs, and sea salt. No milk. No GMOs. Just chewy, American-made, fair trade, Pareve chocolate flavor!
Lower in fat and calories than many other chocolates (just 2 g and 60 cal per 6 oz. bar), these leathers are a great snack or dessert- even after fleishig!
So next time you want to satisfy your sweet tooth without getting unlaced, tied up or tongue tied, stick some leather on your tongue. Your Bubbe and Zayde will be SO proud!