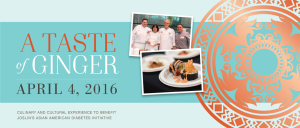 As the Taiko drums called to every corner of the Museum of Fine Arts, the gustatory perfumes from 30 of the region's most popular eateries grabbed hundreds of guests by the nose and took them through the grand hall in the MFA's Art of the Americas Wing, where Ai Weiwei's cycle-ical sculpture shared space with Dale Chihuly's glowing emerald tower and an artistic take on the traditional Asian Wishing Tree that promised good fortune for all who came near.
Though the evening did an impressive job of raising awareness of and support for the Asian American Diabetes Initiative at the world-famous Joslin Diabetes Center (www.joslin.org), the promise of over two dozen top chefs in one room may have had at least something to do with the fact that, despite a late snow, hundreds of people turned out in their finest to eat, meat, and mingle. From the eternally youthful seafood Sultan Jasper White and the thankfully ageless Jacky Robert to kitchen giant Jose Duarte of Taranta and the ever-shrinking chickpea champ Avi Shemtov, to the Needham-based one-two-three punch of Dave Becker from Sweet Basil, Vinod and Shukha Kapoor from Masala Art, and the Lord of Tremont Street Andy Husbands (who is soon to open his long-awaited BBQ capital in Kendall Square) and both local legend Joanne Chang and Top Chef champ Karen Akunowicz from Myers & Chang and Flour, the bursting Greater Boston food scene was well represented. And, as befit the evening, there was a special focus on Asian fare, as highlighted by international TV star Ming Tsai and a raft of restaurateurs from Boston's historic Chinatown. No matter which table guests stopped at or how many times, they were sure to be nearly as amazed and impressed with the edible innovations as those that are part of daily life at Joslin.
This year's event honorees were founding event committee member Bik Fung Ng who has been integral in assembling not only the menu and chefs but also the silent auction and Joslin VP Dr. William C. Hsu. Despite the mouth-watering buzz, when the honorees spoke, the room fell respectfully silent, eager to hear about all the latest advances that are helping the Asian American community in particular battle a condition that seems to pick on them disproportionally. Once the speeches were through, however, the restaurant-fuel revelry continued long into the snowy night and everyone went home as full of food as they were of hope for the future for those struggling with diabetes.