Growing up in her grandmother's Cambridge, MA-based Japanese restaurant, Tokyo, Tracy Chang knew her way around a kitchen and around Asian cooking traditions from very early on After serving at Boston's award-winning O-Ya and then moving to Paris to study pâtisserie at Le Cordon Bleu, Chang landed alongside chef Martín Berasategui at his three-star Michelin restaurant in Spain. Back in Cambridge, she served as a fellow with Harvard Science + Cooking, working closely with chefs such as Ferran Adria, Jose Andre, and David Chang. All of these people, places, and flavors are now combined in the Chang's Cambridge-based collaborative creation known as Pagu (www.gopagu.com).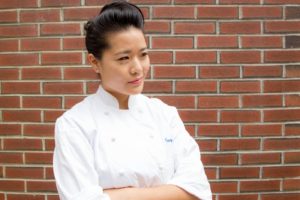 From squid ink Bao buns stuffed with fried to a familial (and deliciously familiar) twist on fried rice to Nantucket Bay scallop sashimi that combines Chang's heritage and home state (and even adds the olive oil she grew to love in Spain), Pagu's menu is intended to not only invite and entice but also engage guests from the Cambridge area and far beyond and to draw on the many diverse skills and expertise that the Cambridge area is known for, from academics and biotechnology to music and design.
MM: How did you get into cooking?
TC: When I was in grade school, both of my parents worked full time, and so my brothers and I had a nanny who took care of us. I'd cook with her on the weekdays, learning to make baos and dumplings (she was from Northern China), as well as how to sew, knit, and speak mandarin. I cooked with my parents, my grandma and my aunties on Sundays because that's when everyone had time to get together. Thankfully we all lived within five minutes of each other. We'd make fried rice for Sunday lunch and on Sunday evenings, we'd either go to Grandma's restaurant, Tokyo, or to go her home to cook dinner together. Grandma made Taiwanese food; my Aunt Jin made Malaysian food. I've always considered myself extremely lucky to have been exposed to such variety of food and flavors from a young age, and only having to travel ten minutes round trip!
MM: Where was your first professional kitchen experience?
TC: I first cooked professionally at O Ya, a contemporary Japanese restaurant in Boston. My friends lived around the corner and recommended I check out the new Japanese sushi restaurant that was doing things no one else did. I was intrigued and went twice with my mother to check it out; I loved it. It was during my senior year of college, and I realized with each year of school, I was spending more time in the kitchen, than in the library. With the encouragement of friends, I decided to apply for the hostess position, but my heart and soul was always set on the kitchen. I didn't know what standard procedure was for restaurant interviews. My resume looked and sounded like a finance resume. Thankfully, my buddy Josh was working down the street in advertising and helped me throw together a 23-page photo portfolio of foods I enjoyed cooking. I showed up with dessert, portfolio and an attitude, ready to wash dishes, clean toilets, host guests, schedule reservations, anything. Tim and Nancy, the owners, let me come in twice a week to prep, which months later led to a full-time position.
MM: What is your favorite dish to prepare?
TC: I love to make fried rice. Anywhere I am in the world, I cook some version of fried rice–with baby squid in Spain or jambon in Paris. It is the first dish I ever learned to cook, before I was tall enough to reach the stove. It's also the dish we made most often on Sundays with my parents. We'd even have competitions with my cousins to see whose fried rice was the best. Somehow my cousins were allowed to judge, and I was left to compete against my uncles and aunties!
MM: What is the best part of your job?
The best part of my job is spreading joy and nourishment through food, community and collaboration. I get to work with some of my best friends, to create every day, something that sustains and satisfies others. I get to inspire, enable, take action, and see immediate results. It's not every day, every profession that one can do all these things.
MM: Who is your favorite chef?
TC: It's hard to pick favorites…but I suppose others wouldn't be upset if I said my grandma. She was a generous, motivated, detail-oriented, leader of our family, as well as of her restaurant, Tokyo. She would spend countless hours at the restaurant during the week, and still want to cook family dinner for us on Sunday nights at her home. I've adopted this practice similarly; it must run in the family. My chef in Spain, Martin Berasategui, used to laugh because I'd go home after 15 hours of work, and still have the energy to cook. When my family visited me in Spain, he told them he had never met anyone with as much energy as I, and more energy than he!
MM: What do you usually make for yourself at home?
TC: I love to make omelets. They are simple, quick and satisfying. I also love that when I make them, even though I've made hundreds if not thousands over the years, I still push myself to do better each time. "Jiro Dreams of Sushi" ethos.
MM: If you could dine with any three people, who would they be?
TC: I'd dine with Grandma.