While Lizzie Borden may have used hers for matricide, perhaps the most famous ax in Boston is that of (in)famous Temperance leader Carrie Nation. Combining tight morals and loose-fitting clothes, Ms. Nation wielded a weapon that wrecked many a good time.
Perhaps ironically, it is her name that now appears on one of the most fun drinking and dining establishments in Boston!
Located steps away from the State House (the source of Prohibition in the Commonwealth), Carrie Nation Cocktail Club (www.carrienationcocktailclub.com) is a perfect place for legislators, lobbyists, lawyers, and even lovers (or those who want to be such) to linger and lounge while enjoying delicious food, delicious drinks, and perhaps a bit of delicious debauchery.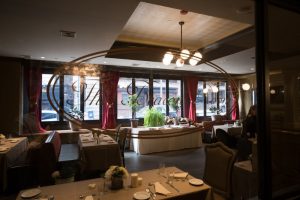 Though the multi-roomed venue echoes the lyric of "Puttin' on the Ritz" in that it "simply reeks with class" (what with its textured ceilings and velvet wall coverings accented with images of Ms. Nation and her more liberal cohorts, leather club chairs and plenty of places to meet and mingle), the scents that are most prevalent are those of Chef Al Soto's creative kitchen, the crack bar team's latest inventions, and the almost-as-intoxicating perfumes of the power players and lovely ladies who frequent the spot.
While the speakeasy vibe may once have been fishy, the stellar seafood in store these days includes a locally-sourced raw bar, fried clams, crab cakes, a lobster bake for one (or perhaps a delicate duo), and some of the best and most authentic fish and chips this side of Killarney. On the meatier side are a BBQ pork flatbread (made with a similar recipe as Carrie's Brookline Village cousin, the Magnolia Smokehouse), steak frites with shallot jam, a smoked roast beef melt with herb mustard and grilled onions, open-faced meatball sandwich with roasted sauce, a chicken Dagwood with candied bacon and avocado, and the famed CN Burger. Before you even get there, be sure to start off with some burstingly flavorful corn bisque with charred tomatoes and peas or any of the spectacular salads, including the kale and red quinoa or the grilled sirloin-topped steakhouse Cobb.
Though the place is packed with carefully-cordoned off politicos during the work week, Carrie also beckons brunch lovers and wandering weekend tourists with such late-morning marvels as banana and chocolate chip fritters, a house-smoked salmon platter, an onslaught of omelettes, and their signature Beacon Hill morning platter, which offers a pair of eggs, smoked bacon, sausage, and home fries. Anytime the family visits, Ms. Nation is ready to treat her young teetotalers with Vermont grilled cheeses, sliders, and flatbreads. But it may be for the older audience that Carrie really (albeit reluctantly) shines. In addition to the main dining room's bar with its glistening mirrors and glassware and just enough screens to skirt the line between available and overwhelming, Ms. Nation's place has an open secret that is tucked away past the restrooms, up a few stairs and through a velvet curtain. There, in true speakeasy style, is a darkened lounge with official billiard tables and few other applicable rules.
No matter where you sit, stand, or snuggle, the beverage menu is impressive and inventive. From separate sets of spirits from around the world (which range from Scottish and Irish whiskeys to American Bourbons, Caribbean rums, French cognacs, and cordials including Macchu Pisco, coffee grain whiskey, and green chartreuse) to cocktails like the honeyed Southern mint tea, the rye and Fernat-based Toronto, and the feminine combo of Tullamore Dew, St. Germain and ginger ale known as Michelle Collins, to bottles, cans, and drafts from New England and beyond and wines by the glass, 18 oz. carafe or bottle, there is something for every taste and every time- whether it be a midday repast or a late night rendezvous.
No matter when you come or what you order, the friendly and smart serving staff will be sure to make proper recommendations (including the TDF chocolate coconut cake!) and to pace your service perfectly. So whether you need a place to bury the hatchet or cut a rug, Carrie Nation should definitely be in your arsenal.