Living in the Boston area, I am more amazed (and frankly more spoiled) by the diversity and quality of the booming food scene. Many is the time when I have been enjoying a meal in my home state and felt there really could be nothing better.
It's amazing what a $6 train ride can do to one's perspective!
Recently, my mom asked to take our beloved twins for a weekend. Eager to get away but not keen of dealing with airports, etc., we hopped on the commuter rail and headed south to Providence. As a Brown kid born and bred and a perennial Newport Jazz goer, I had been to the smallest state before, but usually just for day trips that involved a quick bite and maybe a Del's frozen lemonade. This time, we had the opportunity to take in all the great food and culture Providence had to offer, and we took full advantage of it!
While the Gondola Tour (www.gondolari.com) and the nostalgic visit to Dave & Busters (www.daveandbusters.com) were great, the highlight of the trip had to be the food! We started the weekend with dinner at Al Forno (www.alforno.com) and ended it with a visit to our neighbor Chef Rachel Klein at one of her appropriately-famed Red Stripe restaurants (www.redstriperestaurants.com), In the middle- like the delicious filling in a Boston Cream pie donut from Knead Donuts (www.kneaddoughnuts.com) was the Rhode Island Red Food Tour (www.rhodeislandredfoodtours.com).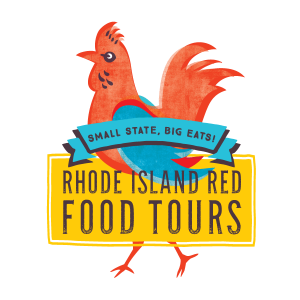 We met our tour guide Allen (a burgeoning attorney with a taste for adventure) near City Hall, And while we were literally steps away from the legendary Haven Bros. mobile diner (www.havenbrothersmobile.com), their amazing milk shakes and burgers would have to wait for (much) later that night. Right now, it was time for a three-hour blitz of The Renaissance City.
Our first stop was to be part one of a delicious bookend of venues that were operated by long-time local legend Ellen Slattery. Appropriately-entitled Ellie's Bakery (www.elliesbakery.com), this sidewalk café was overseen by Chef Melissa Denmark, who also runs the pasty program at the final stop, Gracie's (more on that later- stop salivating!). While there was clearly much more to enjoy, our tasty temptation included a tartine with whipped Narragansett ricotta and a chocolate bouchon that filled our mouths nicely. As we enjoyed, our host also told us of Chef Denmark's famed macaron, but even we would have to wait to taste what all the bourdonnement was about.
While stop two was also a bakery in name, the North Bakery (www.northbakery.com) near the DownCity skating park (sponsored by Cranston-based banglers Alex and Ani) was a cart of a different horse that offered "non-traditional" American fare including a "hand pie" that would put Sweeney Todd to shame.
After a respire in the park, it was off to the historic Arcade building (wwwarcadeprovidence.com) which houses a set of affordable mico-lofts as well as an interesting mix of retail that ranges from a bookstore dedicated to horrific native son H.P. Lovecraft to a former McDonalds that has been upgraded infinitely to a locally-sourced kitchen and brewpub known as Rogue Island (http://rogueislandgroup.com). Here, we were met by one of the proprietors, who offered his homemade hot sauce (which is apparently available at Boston Public Market) on crisp and not greasy wings while inviting us to sample a flight of his favorite brews (of which there were many). It was a great stop and a positive sign that corporate food culture is on its way out.
Just down the hall, we were invited to cool the burn of the hot sauce with a wine-infused slush known as a Frose at New Harvest Coffee & Spirits, (www.newharvestcoffee.com), a coffee shop with an after-hours "speakeasy" door that seemed to have more drinks made with juniper and corn than coffee beans. Not one to miss an opportunity, the shop has become known for a bourbon latte called the Stay-at-Home Dad and other clever combinations of caffeine and booze.
Once we were ready to spice things up again, we headed over to the Harvard Square export Tom;s BaoBao (www.tomsbaobao.com), where we were offered traditional Chinese buns topped with a chili sauce that brought back the sweet burn. Not one to miss an opportunity, I asked for a red bean mini bun on the way out and was surprisingly given two for the price of one! YumYum!
While the carb count was rising, we walked a few doors down (past the custom pretzel and beer hall known as The Malted Barley (www.themaltedbarley.com) which we made a twisted point of returning to later) to one of Providence's many pizza spots. At Providence Coal-Fired Pizza (www.providencecoalfirepizza.com), however (which was direct neighbors with another slice slinger!) the coal-fired goodness that was prepared before our eyes at an extended chef's table that doubled as a high bar was a seat above. And when we saw all the Boston-area sports memorabilia (including a scorecard that had an Ri state baseball team pairing off against our Needham Rockets), we felt right at home!
Speaking of home, the last stop brought us back to the start in a way in that the perennial AAA four-diamond winner Gracie's (www.graciesprov.com) is the aforementioned place that also runs Ellie's. Though they share the pastry chef, the big sister of Ellie's (and apparently of much of the local scene) has its own wine & beverage director, event planner, and even a resident artist whose work we enjoyed as we descended to a special private room in the basement to take in a final bite and glass of wine in this pre-opening closing that is apparently exclusive to the tour.
So if you want to get away without going too far or spending too much, Providence is a great take. And if you want to get a true taste of all the many delicious tastes the city has to offer, give RI Red Food Tours a call.