And the Winner REALLY Is…: The definitive ranking of the greatest actors and actresses in Oscar history
By Ken Grout
Lemon Yellow Books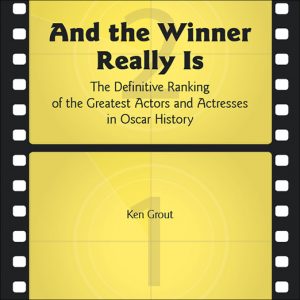 While my readers and listeners may wonder why a review of a book about the Academy Awards is on my food-related blog, older fans will remember that, before I was talking about food with Jordan Rich as part of "Connoisseur's Corner" (weekdays at 11:55 AM on WBZ AM 1030), I was a film reviewer for multiple publications and have always been a fan. Also, in addition to the fact that the publisher of this book is LEMON Yellow Books, it is just a DARN FINE BOOK- so there!
As an actor, teacher, and bon vivant, Ken Grout knows how to communicate ideas and engage audiences. And that is proven in this book as much as it is in any of his classes or performances. While there still may be uncomfortable giggles about the "La La Land" / "Moonlight" fiasco, Grout uses his encyclopedic knowledge of film along with a tiebreaking scheme that is the stuff of "Good Will Hunting" or "A Beautiful Mind" to establish a series of lists that serve as the mic-dropping ends to the "who is better?" conversations all film fans have.
Whether you want to know who has the most nominations in which categories 9and so "rank" higher in Grout's impressive and comprehensive system), the gender, last name, or even the first initial of the most winners, or who dominated the silver screen decade by decade, Grout's slim and bright (inside and out) volume has the answers. In addition to providing this information (in a way that admittedly hearkens to "Rain Man"), the book is also a great way to find out more about favorite stars and films and also to discover new ones, compete with recommendations for "must see" roles for each winner. There is even a section on film stars who crossed over to TV (and vice versa). So whether you like the big or small screen (or waiting for big screen pics to be available on the small one), this Lemon Yellow Book is absolutely sweet!